Last Thursday and Friday I had the opportunity to attend the California Supermoto School (http://supermotoschools.com/) near Sacramento. I've ridden supermoto bikes for years, but more like a roadracer (knee out, head down, standing the bike up, etc.), rather than like a dirt bike in the more traditional supermoto style. I wanted to get some training and experience in riding these bikes the way they're really supposed to be ridden, and to get more comfortable with sliding the bike on dirt or asphalt.
It was a ten hour drive to get there, but there aren't any closer alternatives, and the two-day camp was relatively inexpensive, certainly compared to trackdays or roadracing schools. I watched the weather forecast closely as the dates approached, as I didn't want to drive that far only to have it rain. The weather turned out to be quite warm and sunny.
The camp is held at a giant OHV park in Rancho Cordova, called Prairie City. There are two separate tracks where the camp is held – day one is on a dirt track, which also has some jumps inside and around the oval, and can be configured in a variety of layouts. Day two is on a multi-configurable kart track right next door, which also has some dirt sections with jumps.
Here's a pano of the dirt track area:
We used their bikes on day one. I rode both an XR200 and a CRF230, each with a knobby in front and a dual sport tire on the rear.
The camp is run by Brok McAllister, who is a former AFM roadracer and AMA Supermoto top racer. He's a really personable guy and an excellent teacher. The student/instructor ratio was amazing the days I was there – pretty much one to one! There were six or seven of us attendees, and about that many coaches, which was great. The instructors were great and patient with each rider's abilities. They included AMA young guns like Garrett Willis, Brok's son Gage, Brandon Case, and others.
The dirt track was a lot of fun, and a great way to get things started. I've never done any kind of flat-track type riding, just some trail riding and lots of bicycle mountain biking. So I knew how to slide the bike a little bit, but I can't say I was completely comfortable with it. We figured out early on that we could expect slides from both tires, at any phase of the corner – entry, mid, and exit. The track conditions would change from wet to dry, smooth to bumpy, and get a little bit rutted, so we had to constantly adapt.
By far the biggest challenge for me over both days was the change in riding style and body position. For years and years, I've been taught to ride roadracing style – knee out, head down, stand the bike up. Suddenly everything was totally reversed. Now I needed to be on top of the bike, pushing it down under me, butt on the completely opposite side of the seat, foot out as a feeler or to try to save any slide-outs. It was weird! The other thing I had to constantly work on was getting myself way forward on the seat – up over the tank. This keeps weight on the front end to really control the steering and rotate the rear of the bike with slides when needed to put the bike where you want it to drive out of the corners.
Slowly but surely, I started to get the hang of it. Being competitive, I was constantly trying to go faster than everyone else (of course), but also didn't really want to crash! I didn't.
I can't tell you how many times I went into corners and reverted to my habit of butt off the seat, knee out, head down, only to catch myself and then, slide forward on the seat, move my butt to the other (top) side, and lean the bike down and put my foot out. Again, and again! Finally, it started to sink in, and became more natural.
I was concerned about going the opposite direction around the oval, where the turns would be to the right rather than the left. It's always felt more natural to me to slide the bike to the left than the right. Surprisingly, though, when I used the techniques correctly, it was easy and fun.
They set up several different little TT courses for us, with a variety of turns and some little jumps, to give us all sorts of opportunities to use what we were learning. The bikes we were on were just the right size and type for the experience. Here's some video from a former student that shows what the TT course action looks like:
The other skill we worked on was using more rear brake than we do in roadracing (which in my case, is usually none). Entering the corner, we'd downshift, ease the clutch out, and apply a bit of rear brake to slow the bike and slow the spin of the rear wheel as the clutch engaged, and the tire slid. Start to dip into the corner, and the rear wheel slides sideways a bit – we're backing it in! Sure, it was a little rough, but the basic concept was there. Sometimes a little, sometimes a lot, sometimes jerky, sometimes smooth, but with practice it got better.
Day two was on the asphalt, and I was able to ride my own bike. You know I was really looking forward to this! The first thing we did in the morning was a track walk. The track was really cool. A big kart track with a really interesting variety of turns and some dramatic elevation changes. There was also a long straight, which led into a big, banked bowl turn to the left. There were super tight hairpins, long sweepers, and some off camber stuff.
The only downside was that there wasn't much runoff! Most of the corners had tuff-blocks around them, with chain link fence not too far beyond. I'm so used to Miller, where you don't worry about walls or fences, and there are nice gravel traps and safe runoff areas. In this case the penalty for failure looked like it could be high.
Finally, I had a chance to ride the Husaberg the way it was meant to be ridden! And it felt AWESOME. The bike is really, really good. So light and easy to flick around. So damn powerful, wherever and whenever I needed it. And I'm particularly amazed at how good the stock suspension and brakes are. The Aprilia SXV550 suspension was SO soft, and the stock front brake tended to get really mushy at the track. The 'Berg, on the other hand, was much stiffer by comparison, and the brakes gave me all I needed and never let up.
Before the trip I swapped out the stock Michelin Pilot road tires for something a little more track-oriented. It's hard to find many choices in a 150/60 rear, so I went with the Pirelli Rosso II, which is a street/trackday tire. Very impressive! With this new supermoto style of riding I was doing, when I needed to turn tighter, I'd have to just add more lean to the bike (which felt weird, of course), and I wondered just where the limit was with these tires. I pushed them pretty hard, and they gripped very well. The track had really good asphalt with some nice rubber on it from the karts, which helped, but I was quite impressed with the Pirellis. I will say that they have this in common with the Michelin Pilot Power 2CTs – they warm quickly and have excellent grip, but they don't give you much warning of a slide, it just happens, quickly. However, in every case I was able to save it with my foot on the ground and get the tire rolling or gripping again immediately.
As the day went along I got more and more comfortable with the new riding style, and with the track. I was practicing backing it in a lot, not because it was the fastest way into turn one at the end of the straight, just because it was so fun and sounded so cool (screeeeeeeecchhhh!).
Toward the end of the day we were able to run the track backwards, which was even more fun. Then, they added a dirt section for us with some really fun jumps. I wasn't sure how well I'd do through them, especially with these tires, but it was awesome. I kept giving it more and more gas as I approached the jumps to try to get more air. It wasn't exactly supercross, but it was a lot of fun.
All in all, the camp was a great experience and I learned a ton. On Saturday and Sunday they were having supermoto races at Prairie City, and they wanted me to stick around to race, but my bike wasn't really set up for racing (still a street bike), and I was planning to drive over to Miller in Utah for the first round of the Masters of the Mountains racing series, to hang out with my friends and enjoy the racing.
It was really great to see so many of my racing buddies again. And it was sure nice and relaxing not to have the stress and pressures of having to buzz around taking photos of every practice session and race, or prepare for races, as I have in the past, but rather to just relax and enjoy time with friends.
Miller also happens to have one of the best supermoto tracks anywhere. On Saturday they were hosting some huge kart race, so there was no chance of me getting to ride the bike on it. However, on Sunday, I went over early in the morning and asked if they allowed supermoto bikes to go out and practice. They said sure, that for $30.00 they'd block out 20 minutes or so per hour for me, and I could ride all day! You know I jumped all over that!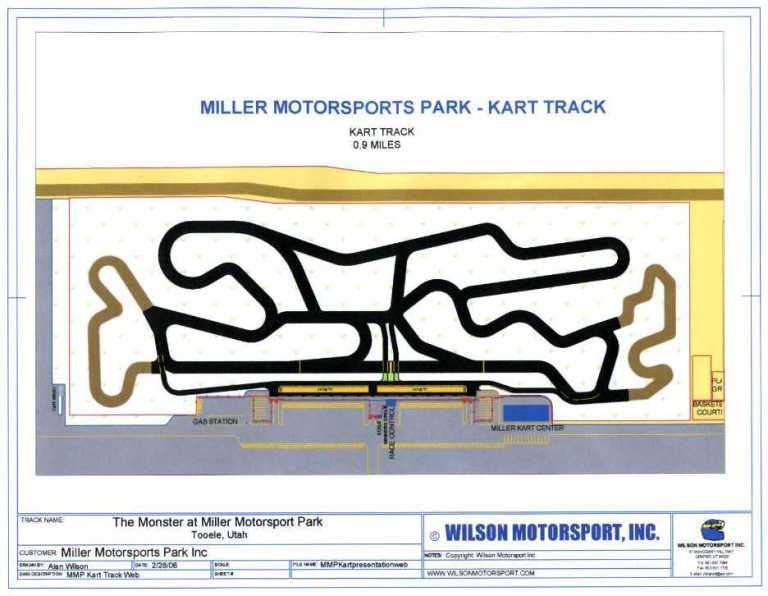 It was incredible! The track, of course, was amazing. I'd ridden it before a few times, but it's been a different configuration every time. I ran a couple of different layouts on Sunday, both new to me. The straight is long enough on the full layout, that it's easy to hit 90 MPH or so before backing it in to turn one. Again, not always the fastest way, but I just had to keep working on that skill.
It really worked out perfectly, because it gave me one more day to very specifically work on the techniques and riding style that I'd learned at the camp. After a couple of sessions, I no longer was reverting to the roadracing body position, but fully committed to the dirt bike, supermoto style, and it was effective and FUN. Again the tires were impressive, and I saved at least a half dozen tucked fronts or rear slides with my foot, which actually took very little effort. By the time I packed up around 2:00 for the long drive home, I'd given the tires (and myself!) a pretty good workout.
I'd been looking forward to this trip for a long time. I think I'd taken maybe four full days off (including weekends) since December, so I needed a getaway. It couldn't have been much better. I'm really happy with the Husaberg, and grateful for the opportunity to have learned so much and had so much fun.